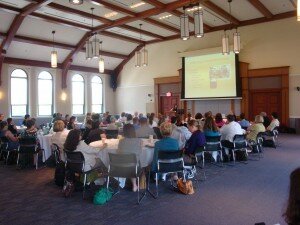 Earlier this week I spoke on a panel of social media professionals to 70 executive directors and marketing staff of nonprofit organizations at Simmons College in Boston. The subject was Social Media: Tips and tools for using social media to build support for your mission. The event was organized by the Center for Non-profit Success.
We had a great group of panelists who provided a balance of tools, case studies and strategy. My task was to present on strategy.   While everyone had a Facebook presence, only two or three audience members had a strategy to back up their social media activities. This is common amongst most nonprofits and many for-profits.  Unfortunately, without a strategy in place, these organizations may not be creating content that serves their audience, delivers on their organizational objectives or have the triggers in place to understand how successful their programs are.
The great news is that once your strategy is created and you know what you need to do, your daily social media marketing activities are efficient and carry more impact. Having measurements in place is rewarding. Once you know what's not working, you can eliminate  time spent on them and focus on successful tactics. This is crucial for justifying resource allocation and funding.
The main steps in creating a strategy are:
Develop objectives for your marketing and social media program
Conduct a competitive review to hear best practices in your industry
Profile your audiences and understand their needs and how you can serve them
Draft a plan that identifies objectives, tactics and measurement strategy for 6 months
Implement the program and measure it monthly, tweaking as you go.
More resources
Nonprofit Social Network Benchmark Report