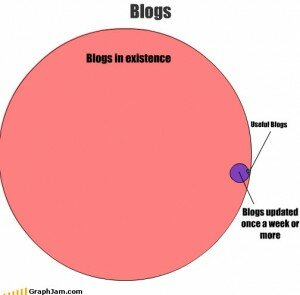 This week I've had some interesting conversations with clients about their social media strategy.
During a discussion on  blogging, one of our clients pointed out that everything they see on blogs is BORING, longwinded, and is more like stream of consciousness thoughts vs. useful information.
If you Google "Why Blogs Fail", you will get more than 89 million links to articles, many of them blog posts to this very topic.  The reason blogs fail is not a secret, and some statistics claim  that 95% of them do.
Blogs fail because the organization has not made a real commitment to resources
Blogs fail because there is no clear content strategy
Blogs fail because the author doesn't know if anyone is listening
What is considered blog success?
If your blog
contributes something of value and demonstrates your expertise regularly (at least once per week)
set you apart from your competition
has visitors who read your content (how many depends on what share of the audience you want)
gets comments and starts conversations
you can feel pretty good that your blog is going in the right direction.